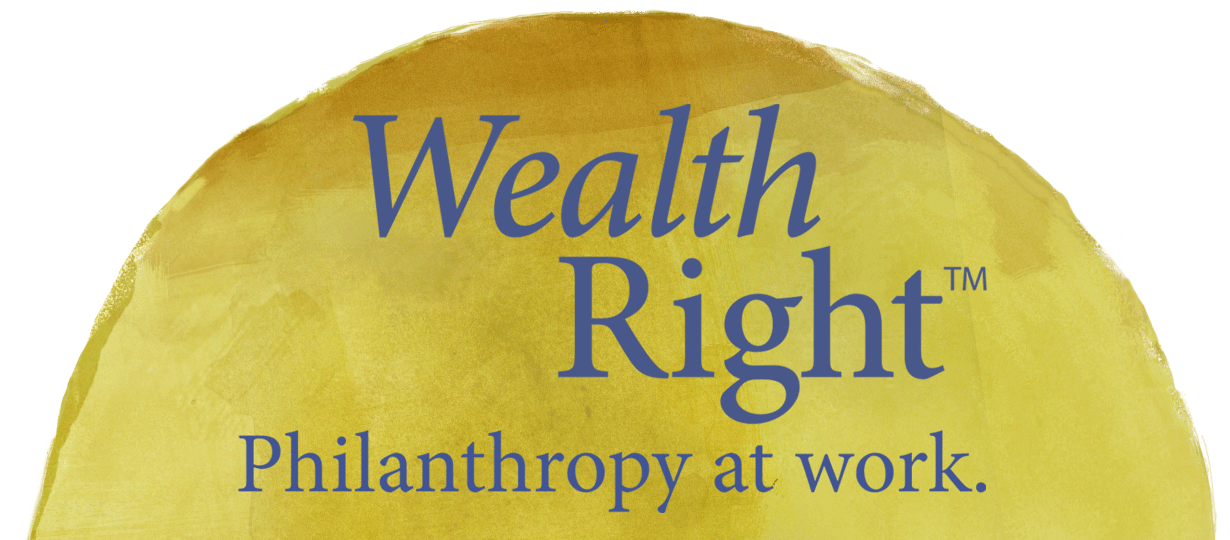 Jewish Philanthropists Make Good Global Citizens, And We Should Be Happy About That
Article written by Carol Davidson
The impetus for this article, it turns out, was a personal judgment call that I got wrong. Let me state at the outset that I am neither an anthropologist nor sociologist, and claim no expertise in the study of data around societal trends. My interest in philanthropy in general, and Jewish philanthropy in particular, is the result of 25 years of asking Jews (mostly) to give.
My erroneous assumption about that giving, however, came from the rabbinic academy in which I was trained as an adult. It was there that the doctrine of helping ones own first and foremost, or being obligated to only help ones own, seeped into my consciousness and became conflated with the way I thought Jews in the pews were thinking. I was always internally at odds with the narrowness of this view, but felt it better kept a deep, dark personal secret lest I upset those who projected a certain persona onto me as a leader in the Jewish community.
When I set out to write about Jewish giving in a global society, I was fully prepared to be critical of the notion that many, if not most Jews felt their philanthropy should be directed at causes that were primarily benefiting Jews. Put another way, I was convinced that many, if not most Jews felt less of an obligation, less connected and less responsible to the global world in which we live than other non-Jewish philanthropists. Numerous, personal conversations with leading Jewish philanthropists and a close reading of the 2013 study: Connected to Give, provided evidence to the contrary. Go figure.
What has emerged from this journey of discovery, however, is an awareness of a strange self-consciousness - one might say even defensiveness - about the fact that Jewish philanthropists are impressive and munificent global citizens. And, equally interesting is that for those Jews who do direct the lion's share of their philanthropy towards Jewish causes; there is a sense of incredulousness that their comrades do not do the same.
First, some perspective. While Judaism hasn't cornered the market on giving, there is no question of claiming a seriously strong stake in the ground. How much Jewish giving there is exactly is nearly impossible to gauge, but think about this: according to the Chronicle of Philanthropy, in tracking the top 50 donors in the United States, at least 20 of them are Jewish. Jews also make up more than half of the first 57 billionaires to join the Gates/Buffet Giving Pledge, and some 76% of American Jews report having made a charitable contribution in 2012. Jewish generosity is not something we have to worry about.
So what are we worried about? Why are there so many articles written and studies done about the eventual demise of the Jewish charitable world if this alarming rate of global citizenry - this healing of the whole world, not just the Jewish world - continues? Should we really be running around crying "chicken little, the sky if falling" because most Jews who make charitable contributions give to both Jewish and non-Jewish organizations? In a book edited by Yossi Prager: Toward a Renewed Ethic of Jewish Philanthropy, the collection of articles discussed at the 2008 Orthodox Forum demonstrate that a fresh look at Jewish charity and philanthropy is called for due to the depth and breadth of social and economic changes in the Orthodox community. Asking good questions is endemic to Judaism and the how/why/where of our giving need not be excluded.
Here's the really great news on the ground: more than half of all Jewish donors surveyed by the Connected to Give study said that they give because they want to address critical needs in the community and support worthwhile causes. That is completely in alignment with UJA Federation of New York, and on target with one of the largest social service agencies in New York, the Jewish Board of Family and Children's Services [JBFCS].
I spoke with Jerry Levin, recent past Chair of UJA Federation NY, about his own commitment to Federation, how he got there and how hard he has worked to motivate others. Jerry is an astute businessman, as smart as the day is long, and as his wife Carol will tell you, his biggest medical issue has been caused by an oversized giving heart. There are few Jews in New York Jerry hasn't solicited (yet) and he's not ready to celebrate the good news story I'm projecting. His biggest frustration appears to be over one response to his solicitations which he gets more frequently than he'd like: "I don't do Jewish."
He finds that obnoxious. A cop out. Coming at this as a cultural Jew, with a background in Minneapolis where there just weren't that many Jews, Jerry sees "doing Jewish" as being equivalent with UJA Federation's mission of "caring for those in need" and he's not wrong about that.
What gets to him is the allergy some Jews have to the second and third line of the UJA Federation mission statement: "inspiring a passion for Jewish life and Israel, and learning and strengthening Jewish communities in New York, in around the world." Leaving aside that some philanthropists think they know better than UJA Federation how to allocate their funds, there's something about the emphasis on only Jews that irritates some people and almost feels myopic.
I posit that the reason for this disconnect stems from our confusing 'Jewish continuity' with 'Jewish philanthropy', and that is a dangerous, circular road to travel with no exit sign in sight. It looks something like this: Jews who are connected to Jewish community care about that community. Caring about that community engenders in people a desire to support it. The farther Jews get from their Jewish community the less they care about it, and the less they care about it, the less they support it. The less they support it, the less chance the community has of survival. Without Jewish community, there will be no Judaism. There are other, more healthy ways to reimagine the problem.
For the majority of mainstream Jews, I think Jewish philanthropy going global is precisely what will continue to instill pride and attraction and connectedness to our Jewish roots and Jewish values. The greater the impact Jewish dollars can have in the interconnected global world in which we live, and the deeper the ability to solve systemic problems of people and communities all over the world, the greater the Jewish connection to what makes us Jewish in the first place: our values.
Adam Frieman may have found a way to have his cake and eat it too. As partner and founder of an employee-owned merchant bank, ETICO Capital, Adam felt so strongly about helping an Israeli nonprofit succeed that he took a two year hiatus from most of his work obligations and told his partners he needed some time to make things happen for the kids at risk at Yemin Orde. [He's also a loyal support of UJA Federation; how could he not be, he met his wife there.] For him, Yemin Orde is the perfect place to put his energy and his dollars. First, as a Jew, it's important for him to support Israel, regardless of political bent, and Yemin Orde helps him do this in a multi-generational way. Second, the problem of at-risk youth is a global issue that just happens to be dealt with in a first class way by this outfit in Israel, so that makes him feel good about continuing to be a 'light unto all nations.' Third, and here's where it gets a little tricky, for Adam - giving Jewish is about preserving our history and our identity.
We may all just have to accept that Jewish philanthropy might be a bit of a 'chicken and egg' phenomenon, another roundabout for us to ponder and probably agree to disagree about. Whether Jewish philanthropy leads to greater Jewish continuity, or whether greater Jewish continuity leads to increased Jewish philanthropy, let's remind ourselves of the etymology of 'the love of humanity' and in the interest of going global, look to our friends, the Greeks.
Elpis is Greece's first philanthropic advisory service, and their website takes us to the myth of Prometheus Bound. In this mythic tale we are told how the primitive creatures that were created to be human at first had no knowledge, skills or culture of any kind. They lived in caves, in darkness and in constant fear. Prometheus, because of his 'humanity-loving character' or 'philanthropos tropos' saved them from Zeus by giving them two gifts: fire (symbolizing knowledge) and optimism. "The two went together - with fire, humans could be optimistic; with optimism, they could use fire constructively to improve the human condition."
For Jewish humans, we know all too well what happens when optimism is extinguished. We must keep the flame alive, and be mindful that the sheer magnitude of Jewish philanthropy beckons us to "do it" with excellence, leading the world, not just the Jewish world, by example. The glass is more than half full, it runneth over, and we should celebrate that great fortune. For better, not for worse, our lives are increasingly intertwined in a fragile, global ecosystem and the opportunity to demonstrate our 'humanity-loving character' has never been greater.